While we have had the exciting privilege to manage hundreds of PR and media campaigns successfully, some of our most notable and best PR campaigns include:
Million March Press Conference
Media Plus hosted the Press Conference for Hyderabad's Million March which gradually drew not just national but international attention. Tens of thousands took to streets to voice their concerns on saving India's democratic nature.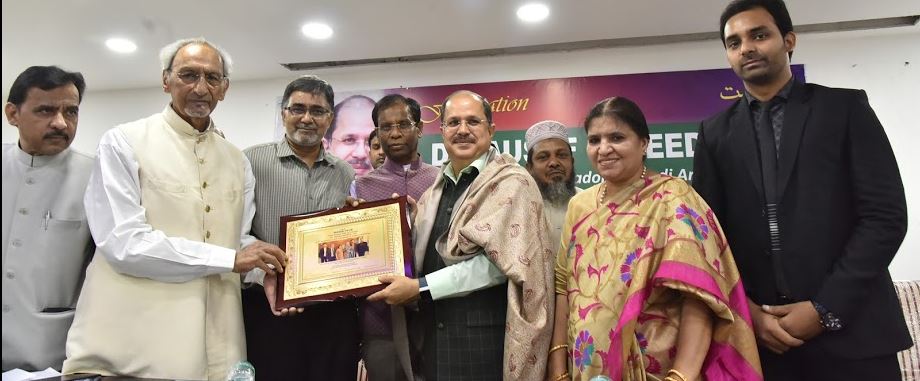 Felicitation Program of India's Ambassador to Saudi Arabia
First World Congress on Reproductive Health
Media Plus is honoured to be the official media coordinator for the first World Congress on Reproductive Health where national, international scholars, professors, scientists and research scholars, experts from top health organizations from India, USA, UK, Germany, Turkey, among others are participating.
President of Iran's Hyderabad Visit
Media Plus is privileged to be the official media coordinator for the historic visit of the President of Iran Dr. Hassan Rouhani to Hyderabad. Media Plus has undertaken news release for the President's tour from his arrival in Hyderabad to departure.
All India Muslim Personal Law Board - 26th Plenary
A very important conference, Media Plus coordinated the media for the 26th plenary of All India Muslim Personal Law Board, in Hyderabad in collaboration with the AIMPLB team;
Rally for Rivers
Media Plus successfully managed the full house Press Conference of Rally for Rivers organized in Hyderabad.
AIMES National Conference 2017
Media Plus successfully managed the AIMES National Conference which was organized in Hyderabad after nearly 40 years.
Indo-Arab Solidarity Conference
Ambassadors of nearly 12 Arab countries gathered on one platform to express their solidarity for Palestinian peace. Media Plus successfully managed this prestigious conference.
Indo-Turkish Business Meet
The Indo-Turkish Business Meet organized by Muslim Chamber of Commerce and Industry saw top businessmen from the community participate and exchange ideas and business development opportunities with the likes of Telangana Chamber of Commerce and Industry President, Turkish onsul General of Turkey in Hyderabad, Chairman of Muslim Chamber of Commerce and Industry among notable personalities. Media Plus successfully managed media publicity for this business conference.
Copart India Inauguration
Copart Inc with a $7 billion market cap inaugurated its India Technology Center at Gachibowli in Hyderabad. Telangana IT Secretary Jayesh Ranjan IAS and US Consul General to Hyderabad Katherine graced the occasion as guests. Media Plus successfully managed the PR and media publicity campaign for this program.
Felicitation Ceremony of Olympian Footballer Shahid Hakeem
S. Shahid Hakeem, Indian football legend, Olympian and international referee was conferred with the prestigious Dhyanchand Lifetime Achievement Award 2017 by Ministry of Youth Affairs and Sports, Government of India. A felicitation ceremony was organized by veteran national and state players of Indian Football Team at Media Plus Auditorium.
Pista House Haleem Launch
The world-famous Haleem from Pista House which is the largest Haleem maker in the world, was launched to much excitement and anticipation with an overwhelming media attendance. Media Plus successfully organized and managed this press conference and product launch program.
RCOG World Congress
Former President of India Dr. A.P.J.Abdul Kalam delivered the key address at RCOG World Congress as Experts, obstetricians and gynaecologists from nearly 62 countries participated. Media Plus splendidly managed this international conference attended by nearly 3000 delegates.
Indo Arab League - Star of Palestine Award
Mr. Syed Vicaruddin, Chairman of Indo-Arab League Hyderabad and Chief Editor of nonagenarian Urdu daily Rahnuma-e-Deccan on Saturday became the first Indian to receive the 'Star of Jerusalem' - the highest civilian honour of Palestine. Mr. Mahmoud Sidqi Al-Habash, Supreme Judge and Special Advisor to President of Palestine Mr. Mahmood Abbas conferred the award upon Mr. Vicaruddin at his residence graced by the elite of the Hyderabad. Media Plus was privileged to coordinate media for this event.
Measles-Rubella Vaccination Drive
UNICEF, WHO Country Office, Center for disease Control – USA and TS Health Department along with leading Pediatricians, Religious Leaders and school managements came together on one platform through a panel discussion which was organised by city based NGO, Helping Hand Foundation, to clarify the rumours and myths around MR vaccination.
HZCT & FEED Annual Meet
Hyderabd Zakat and Charitable Trust completed its 25 years. At the HZCT Annual Meet, Mr. A.K.Khan IPS (Retd.) appreciated their endeavours and remarkable ways their work has helped the government in implementing its minority welfare schemes. Media Plus considered spreading this word through media its prime responsibility, and so it happened.
Sahayata Trust J&K Flood Relief
IMRC (Indian Muslim Relief and Charities) announced to undertake relief work in Srinagar for J&K flood victims through its sister Organization Sahayata Trust, which is based in Hyderabad, Telangana, India. Media Plus helped its charitable endeavors by spreading the word through media.
Franchise Cricket League
The first season of Franchise Cricket League, a special T20 tournament, participated by 80 top-drawer Multi-National Companies (MNCs) and Corporates. The tournament, organized by VB Cricket Club and Zubi Cricket Academy, is played at VB Cricket Club grounds.
Empowering Young Global Citizens Conference
A conference on Empowering Young Global Citizens organized as part of bilateral programme by the British Deputy High Commission at Hotel Park Hyatt in Hyderabad on 9th February 2017 as part of bilateral engagements in Hyderabad by the British High Commission and Islamic research seminary Al Mahadul Aali Al Islami, with a series of workshops in collaboration with MS Education Academy and social welfare organization 'Rubaroo'. The event was gracefully covered by all local and national media.
AAKCBA Commencement Day
Income Tax Commissioner of Hyderabad Mr Parneet Singh Sachdev, in his invigorating address to the first year MBA students on Commencement Day of Amjad Ali Khan College of Business Administration reeled out tips to be successful administrators. Media Plus delivered this news through various outlets in print and electronic media.
Smart India Hackathon 2017
An awareness Program on Smart India Hackathon 2017 initiative taken up by the Ministry of HRD in collaboration with All India Council for Technical Education (AICTE) was organized at Muffakham Jah College of Engineering and Technology (MJCET), Dr. Abhay Jere, Organizing Secretary and the man behind the Smart India Hackathon 2017 initiative who was also on Prime Minister Modi's Expert Panel on Swachh Bharat initiative was the chief guest. Media Plus managed the media publicity for this happening event.
and many more….
Get in touch with us to know more. Call us on +91-9395381226 or +91-9652828710.